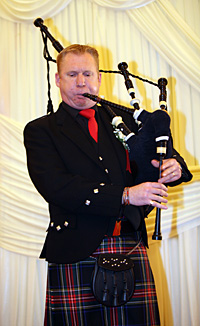 My name is Hylton Cruickshank. I started playing the bagpipes at the age of 9 after I had had a year of piano tuition. I really didn't like the piano and wanted to give it up. My mom relented, however as a compromise, I had to take up another musical instrument.
My family and I attended a musical performance put on by the local Pipe Band in Pietermaritzburg, South Africa and it was here where I chose the bagpipe as my instrument of choice. (I really was hoping that this would seal the musical demise and allow me to focus on other kid activities!)
I had to learn on a chanter before I was able to advance to my set of bagpipes. My teacher, Len Neasham played in the Army in the second world war up in Northern Africa.
There were 12 tunes that I had to know by heart before I was able to get to the next level. My very first tune was called Loch Ranoch, which I still know today after some 30 years of playing.
My first street performance was with our local pipe band, Pietermaritzburg Caledonian Pipe Band, taking part in the local University RAG parade. Pietermaritzburg Caledonian Pipe Band (now called Pietermaritzburg Caledonia) and was a living memorial to those that had fallen in the great war founded in 1918.
From there I played in numerous competitions, parades, Tattoo Extravaganzas and even joined my high school pipe band. I took part in numerous solo competitions in South Africa, namely the Royal Scottish Gathering, the Natal Scottish Gathering, South Coast Gathering and a number of local solo events held in Durban.
During my tertiary study time away in the early nineties, I joined the army as a volunteer piper with 1 Medical Battalion in Durban. I spent 3½ years in the Battalion with many fond memories.
I have played in several pipe bands in the UK, with the opportunities of playing against some spectacular competitors at various international and national level competitions – Cowal Gathering, World, European, All British, English and Scottish championships. My last band in the UK – The University of Bedfordshire Pipe Band – won the coveted RSPBA World Pipe Band Championship in their grade in 2007.
In 2010 I moved to the Austin area and joined the Silver Thistle Pipe Band.
– Hylton Cruickshank